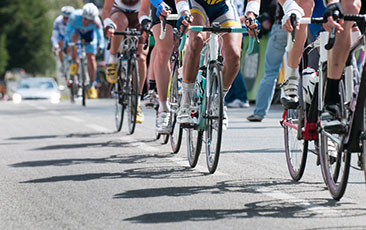 Cycling is a great way to enjoy the outdoors—taking in the sights and sounds of nature while burning calories and staying in shape. But did you know that wind noise may harm cyclists' hearing? Researchers from Henry Ford Hospital Department of Otolaryngology—Head and Neck Surgery found that wind-related noise experienced by cyclists can be loud enough to contribute to noise-induced hearing loss—with wind noise increasing proportionally with speed, ranging from 85 A-weighted decibels (dBA) at 15 mph (about the speed of an average cyclist on flat terrain) to 120 dBA at 60 mph (the approximate speed of a professional cyclist racing downhill).
"These findings are important because noise-induced hearing loss can begin with sounds at or above 85 dBA," said Anna Wertz, M.D., Henry Ford otolaryngologist and co-author of the study. "Short-term exposure to [most] loud sounds isn't likely to have a lasting effect on hearing, but prolonged or repeated exposure can lead to permanent damage."
To study the impact of wind noise, researchers used the Ford Motor Company aero-acoustic wind tunnel to generate wind speeds ranging from 15-60 mph. Cyclists were fitted with microphones attached to their ears to measure the noise level at various speeds, with sound measurement taken with the cyclist's head position at 15-degree increments relative to the wind. Interestingly, researchers discovered that wind noise was greatest for the cyclist's downwind ear due to air turbulence caused by whirlpool currents observed on the downwind side. You can read more about the study online.
How loud is too loud? Sounds at or below 70 dBA, even after long exposure, are unlikely to cause hearing loss. However, long or repeated exposure to sounds at or above 85 dBA can cause hearing loss. The louder the sound, the shorter the amount of time it takes for noise-induced hearing loss to occur. Read more about how to protect your hearing on the Noisy Planet website.