Noisy Planet joins the National Association of School Nurses (NASN), a valued partner, in celebrating National School Nurse Day each May. More than 73,000 school nurses in the United States work throughout the school year to improve the safety, health, and academic success of all students. School nurses address a variety of wellness and prevention practices, and they have the skills to educate children and families about healthy lifestyle choices.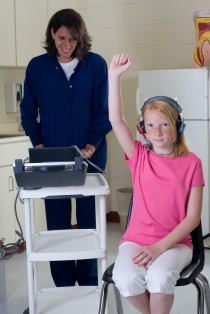 Many sources of noise that can potentially damage hearing are part of students' daily lives at school, such as a crowded cafeteria at lunch hour, sports events in the gymnasium, and a packed school bus. Most young people, however, aren't aware of noise-induced hearing loss or how it can be prevented. School nurses can play an important role in hearing health by encouraging families to follow through on referrals from hearing screenings and by talking to preteens about preventing noise-induced hearing loss, the only preventable form of hearing loss.
School nurses have a positive influence on youth and can play a role in teaching them how to protect their hearing for life by developing healthy hearing habits.
Noisy Planet recommends three easy actions to protect hearing no matter where you are:
Lower the volume.
Move away from the noise.
Wear hearing protectors, such as earplugs or earmuffs.
Be your child's advocate and help preteens learn more about preventing noise-induced hearing loss.