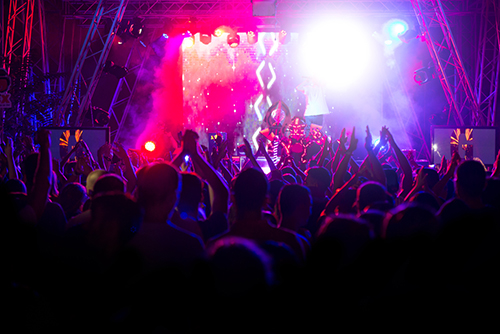 The roar of the crowd, the boom of the bass, and the pop and crackle of fireworks, while exhilarating, can be loud enough to permanently damage your hearing. One simple solution that can save your hearing is using hearing protectors, such as earplugs or earmuffs. Yet only eight percent of American adults say that they regularly wear hearing protectors at loud athletic and entertainment events, according to a study by the Centers for Disease Control and Prevention (CDC). Sounds at or above 110 A-weighted decibels (dBA) can damage your hearing in only two minutes. Noise levels at sporting events and concerts can range between 94 and 110 dBA, and sometimes even reach 140 dBA! The CDC study was published in the October 19, 2018, Morbidity and Mortality Weekly Report.
CDC researchers analyzed the use of hearing protection devices (HPD) by U.S. adults (18 years or older) using data from a 2018 national marketing survey. Participants were from every U.S. state and were representative of the population. They were asked: "In the past 12 months, how often did you wear hearing protection devices (ear plugs, ear muffs) when attending a loud athletic or entertainment event?"
The CDC found that more than four out of five (81.8 percent) participants reported "never or seldom" wearing an HPD when attending a loud event. Participants ages 35 or older were less likely to wear HPDs than younger participants (ages 18 to 24). Additionally, women were more likely than men to report that they "never or seldom" wear hearing protectors.
Participants who had at least some college education or annual household incomes of at least $75,000 were more likely to wear hearing protectors "most of the time" or "always." Also, participants with hearing loss or with a household member who is deaf or hard-of-hearing were were more likely to wear hearing protectors.
When you're exposed to loud sounds over time, the risk to your hearing health can increase if you don't wear hearing protectors. The Noisy Planet campaign is dedicated to spreading the word about preventing noise-induced hearing loss. Children, teens, and adults can protect their hearing by:
Lowering the volume.
Moving away from the noise.
Wearing earplugs or other hearing protectors.