Noisy Planet's online newsletter offers stories on noise-induced hearing loss, as well as tips and information on how to help preteens protect their hearing and develop healthy hearing habits.
The Latest from Have You Heard?
New research shows that hearing loss rates have declined over approximately the last decade in people aged 20-69, continuing a promising trend. Read more >
More from Have You Heard?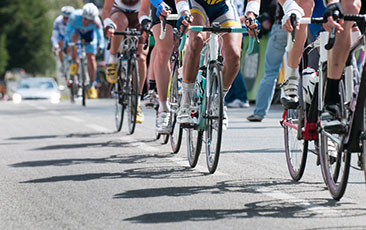 Wind noise may harm cyclists' hearing. Researchers used a wind tunnel to generate wind speeds up to 60 mph, and microphones to measure the resulting noise levels. 
Read more >
The holiday season is the time for giving and sharing, but some toys may be hazardous to children's hearing. Consider the noise levels of toys before you buy!
Read more >
In the Community
The NIDCD Noisy Planet team continues to raise awareness about healthy hearing habits through classroom presentations, community events, and conferences across the greater Washington, D.C., area and beyond. To reach the campaign's primary target audience—preteens—the Noisy Planet team spends, on average, two days each month spreading awareness at local schools about the causes and prevention of noise-induced hearing loss. Using an interactive, 45-minute presentation that features hands-on activities and a lesson about sound, the parts of the ear, and how too much noise can damage your hearing permanently, the Noisy Planet team teaches students in 2nd through 7th grades how to adopt healthy hearing habits.
In 2016, Noisy Planet presenters reached 106 classrooms, including 21 new schools. By the end of December, Noisy Planet reached more than 3,000 students through community events and classroom presentations. And since June 2010, the campaign's in-person presentations have reached more than 16,000 youth. In addition to classroom presentations, the Noisy Planet team also participated in several community events and national conferences, such as the 4-H Youth Health Summit on Healthy Living, the USA Science & Engineering Festival, the NIH's Take Your Child to Work Day, the 38th annual National Association of School Nurses (NASN) conference, the U.S. Congressional Health Fair, the National Association of Extension 4-H Agents (NAE4-HA) Conference, and the National Trademark Expo. Learn more about how your organization can become involved in Noisy Planet. >
Featured Shareable Images
Protect your hearing while you ring in the new year! Share this image on your social media platforms. Read more >
Make healthy hearing habits one of your resolutions for the new year! Share this image on your social media platforms. Read more >