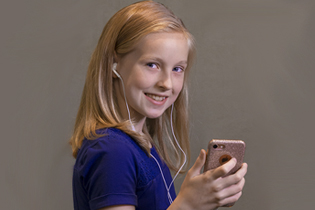 In an effort to respond to the potential hearing loss risk posed by unsafe listening through personal audio devices, the World Health Organization (WHO) and another agency within the United Nations—the International Telecommunication Union (ITU)—collaborated in developing the WHO-ITU H.870 global standard for safe listening devices and systems. An estimated 13 to 18 percent of U.S. teens (ages 12 to 19) have signs of possible noise-induced hearing loss, according to a study published in JAMA Otolaryngology-Head & Neck Surgery. WHO estimates that 1.1 billion young people (ages 12 to 35) worldwide could risk hearing loss from unsafe listening habits.
The evidence-based global standard, or set of guidelines, results from a two-year collaboration between experts and stakeholders, including government, industry, and consumers. WHO recommends that governments and manufacturers adopt the voluntary standard and raise public awareness about the importance of safe listening practices. The WHO-ITU Toolkit for Safe Listening Devices and Systems (PDF) provides practical suggestions for industry, governments, and organizations to implement the international standard for safe listening devices. The toolkit also provides resources for a school-based workshop on safe listening, including It's a Noisy Planet. Protect Their Hearing.® materials.
The new standard for the manufacturing and use of personal audio devices, including smartphones and MP3 players, addresses the following:
"Sound allowance" function: software that tracks the level and duration of the user's exposure and estimates the percentage used of a specified sound allowance (reference exposure).
Personalized profile: an individualized assessment to tell users if their listening habits are safe and to give ideas for changing behavior.
Volume-limiting options: users can choose to set the device to automatically lower the volume once a user has reached 100 percent of their weekly "allowance," and can set password-protected parental volume controls for devices used by children.
Consumer information: tips on safe listening practices for personal audio devices and other noisy leisure activities, such as attending concerts, as well as information about the risk for hearing loss when exposed to loud sounds.
The standard is part of WHO's "Make Listening Safe" initiative to improve listening practices among young people when they are exposed to sounds at noisy venues as well as when listening to music through personal audio devices.
Noise induced-hearing loss (NIHL) can happen at any age. Children, teens, young adults, and older people can develop NIHL. Because the damage from noise exposure is usually gradual, you might not notice it at first, or you might ignore the signs of hearing loss until they become more pronounced. Over time, you might find it difficult to hear or understand conversations, especially on the phone or in a noisy room.
Practice safe listening now so you can continue enjoying your favorite music, going to the movies, and other daily activities for a lifetime.