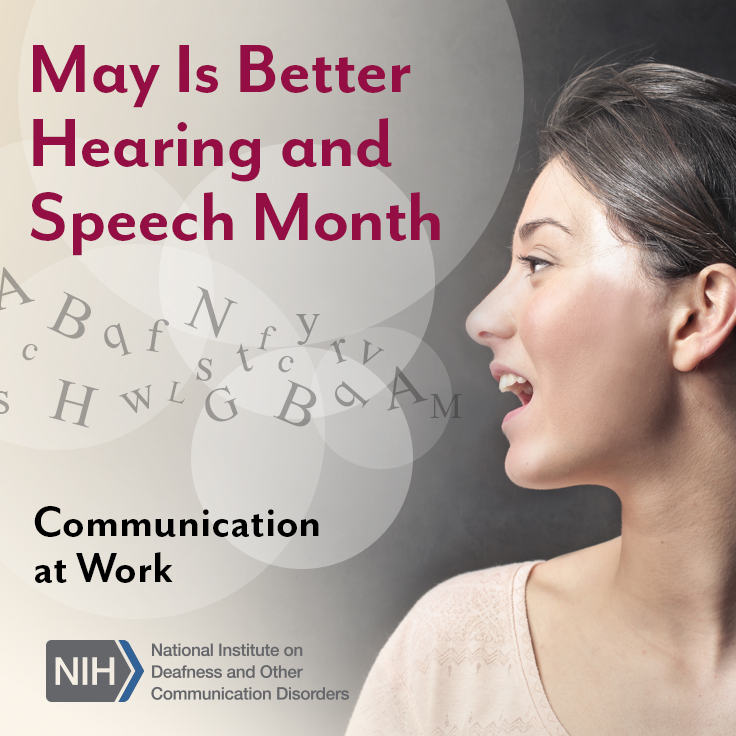 Click on the image or on this link-sharing page to use our social media sharing tools or embed the image in your website or blog. A Spanish-language version of this image is also available.
Each May, Noisy Planet joins the American Speech-Language-Hearing Association (ASHA), one of our collaborators, in observing Better Hearing and Speech Month. Noisy Planet celebrates this annual opportunity to raise awareness about communication disorders and hearing health. This year's theme is "Communication at Work." Noisy Planet reminds parents, educators, and health care providers that hearing loss from noise typically develops slowly over time. It's important to help children form healthy hearing habits so that they continue those practices into adulthood and the workplace.
During Better Hearing and Speech Month, join Noisy Planet in spreading the word about hearing protection. Share these materials with your family and community and on social media to help raise awareness that hearing loss from noise is preventable.
Earplug videos. Sometimes you can't easily avoid the noise or control the volume. That's when earplugs can help prevent hearing damage. If you don't insert earplugs properly, they won't protect your hearing as much as they could—and perhaps not at all.

How to Use Formable Earplugs video

This video and shareable GIF show the right way to insert formable foam earplugs. Roll the earplug into a thin snake (to avoid creases that let in sound), pull your ear up and back with the opposite hand, and gently insert the earplug into your ear canal until it is flush with the opening of the ear. Then hold the earplug in place until it fully expands.

How to Use Pre-Molded Earplugs video

This video shows you how to use high-fidelity earplugs, which are great for concerts and other times when you want to protect your hearing but still preserve sound quality.
Preventing hearing loss promotes lifelong learning and staying connected with colleagues, family, and friends. Approximately 13 to 18 percent of U.S. teens have signs of possible noise-induced hearing loss, according to a study published in JAMA Otolaryngology-Head & Neck Surgery in 2017. Although the study showed that the overall prevalence of this form of hearing loss did not change significantly over 22 years (from 1988 to 2010), that's still a lot of teens who are likely to lose some of their hearing over time. In addition, tens of millions of U.S. adults ages 20 to 69 have measurable hearing loss likely due to noise exposure. Children and teens who develop healthy hearing habits early on can help to protect their hearing for life!
Protect your hearing (and your family's hearing) with these three steps:
Lower the volume.
Move away from the noise.
Wear hearing protectors, such as earplugs or protective earmuffs.
Learn more about Better Hearing and Speech Month and about disorders related to hearing, voice, speech, and language on the website of the National Institute on Deafness and Other Communication Disorders (NIDCD).